Illuminating Exhibitions
This page showcases some of the events and exhibitions by Calligraphic Works.
Illuminating Wisdom: Book Launch and Exhibition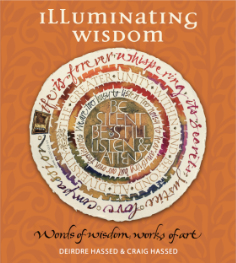 Talented Melbourne-based couple, artist Deirdre Hassed, and Dr Craig Hassed, an internationally recognised mindfulness expert, combined their passion for beauty and wisdom to create a book to nourish the soul.
Illuminating Wisdom is a beautiful celebration of some of the world's most inspiring philosophical, spiritual and literary quotes. Approximately 80 quotes have been drawn from some of the great wisdom and literary traditions of East and West.
Exhibition: Illuminate
Deirdre's Illuminate exhibition of calligraphic works was inspired by texts from the world's great wisdom traditions.